With 2014 in full swing, I thought it would be a good time to reflect on the last twelve months for JW Player and look forward to what we believe will be an exciting year.
For JW Player, 2013 was a transformative year. Adoption of our products continued to grow at a break-neck pace. To help give you a sense, from November to December, the number of impressions that passed through a JW Player increased by 1 billion streams, while the number of unique viewers watching video on our products increased by 60 million people. That's just our month-over-month growth. In total, nearly 8 billion streams and 700 million unique viewers watched video on our products in December alone! Not a day goes by where we are not amazed by our scale. When we started this company, we could not have imagined seeing that type of growth and are excited at what 2014 has in store.
In 2013, we also decided to re-brand the company from LongTail Video to JW Player. While making such a change was a massive undertaking, aligning our company brand with the product we were known best for – the JW Player – was a no-brainer. If you like, you can read about our rationale for the change here. Needless to say, we are very pleased with results thus far and believe there is a ton of potential to build upon in 2014.
From a product perspective, 2013 was another year where we sought to extend our market leading position. Specifically, we focused the majority of our development efforts on two areas: mobile and advertising. From a mobile perspective, we extended our support of HLS (http live streaming), adding AES encryption, live stream rewind and closed captions. In addition, we worked hard on improving the 'mobile-first experience' of the JW Player by adding responsive design and enhanced skinning capabilities for mobile devices.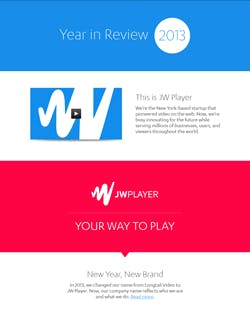 Click on the image above to see a full recap of JW Player highlights from 2013On the advertising side, we enhanced our ad delivery functionality, the most notable of which was adding support for VAST in mobile environments so that publishers can monetize their videos on any mobile or desktop device. We also added an advertising API to the JW Player to give publishers greater flexibility in customizing the ad delivery experience for their users. In 2014, we have several exciting product releases that will further cement our position as the leading provider of innovative video solutions. We look forward to working with you to ensure we are meeting your expectations.
In conclusion, our progress could not have been possible without the ongoing support of you, our customers and community who provide us with an invaluable feedback on what the market needs. Thanks for your tremendous support and we look forward to working together in 2014!
Thx
Dave