Last week, Bits on the Run, our online video platform for streaming, hosting and transcoding, released a new and improved Dashboard.  This release contains several significant improvements to both speed and ease-of-use, and completes Phase I of our dashboard upgrade.  Phase II will be focused on improving reseller functionality,.  Read on for more information…
New Dashboard Improvements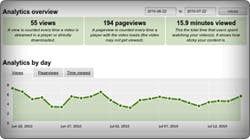 Here are a few of the enhancements our new Dashboard offers you :
Video filtering by tag, allowing for easy management of a large library.
Easy player duplication by a single click on the overview page.
Uploads managed by JavaScript (instead of Flash), to work across various devices.
Video and playlist preview/publish options now in the overview pages.
Video statistics can now be exported to CSV files (Excel) for in-depth analysis.
Manual playlists have the ability to show one video multiple times, e.g. for placing a short promo between videos.
As of today, you can log in to the new Dashboard at dashboard.bitsontherun.com.  The old Dashboard will remain available at manage.bitsontherun.com until our reselling functionalities are transferred to the new Dashboard.
If you have not yet signed up for Bits on the Run, try it out for free here.
Note to Resellers:   The new Dashboard currently doesn't support resellers (and associated sub-accounts). Attempts to log in to the new Dashboard will be redirected to the old Dashboard.  The next phase of our upgrade includes improved reseller functionality, at which point all resellers will have access to the new Dashboard.  Coming soon….