Mobile live streaming is an excellent way to boost your business sales or connect with your audience from any location using live broadcasting and streaming apps.
Thanks to the awesome power of the online world and interconnected network of mobile devices, mobile live streaming allows everyone to enjoy a form of communication that's easily broadcasted and widely accessed around the globe and across multiple time zones.
Are you looking to find the best streaming apps to broadcast live video performances? Or, are you searching for the best live streaming platform to fit your business' mobile live streaming needs?
Discover our list of the most popular and widely used mobile live streaming apps and platforms (in no particular order of preference). Continue reading to learn how to monetize your online digital content for optimum mobile live streaming success.
What Are the Best Streaming Apps for Mobile Live Streaming?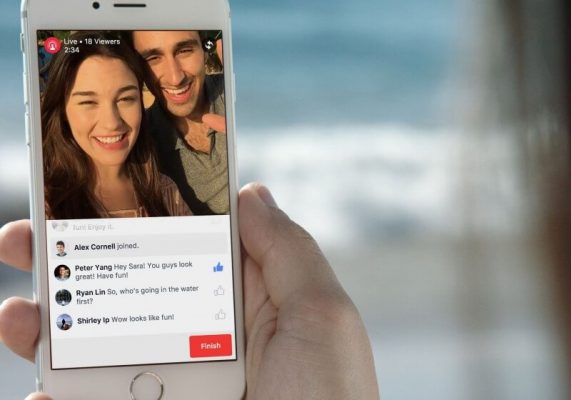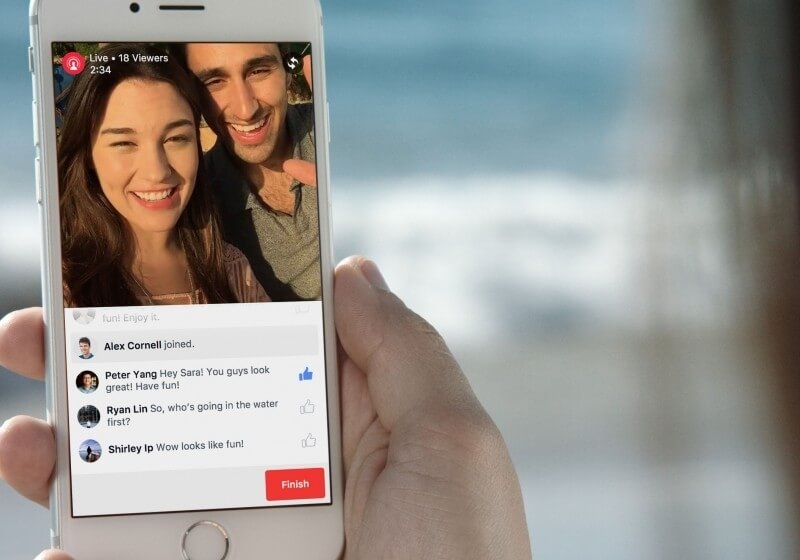 Another interesting live streaming app for both iOS and Android operating systems, StreamNow allows streamers to monetize live broadcasting using a subscription business model. After signing up for the live streaming app, users must pay a monthly, yearly, or per-session fee. For instance, if your live streaming session is on HR management, your users can pay per session.
Similar to Periscope, StreamNow enables viewer commenting, which can be a great way to boost your social engagement. In turn, higher user engagement will improve conversion rates since your audience is more informed and up-to-date with any upcoming live video streaming events.
However, there is another monetization feature called pay-per-view where you can charge live streaming broadcasts every time a user watches your video. And to do away with the hassles of filling long sign-in forms, StreamNow has a social login feature. Viewers can use this feature to securely and quickly login from their social networking accounts, such as Facebook or Twitter.
StreamNow has also carefully considered the hassles and headaches for users during the payment processing stage. To solve this, the live streaming platform has built a PayPal payment gateway enabling payments to be processed globally.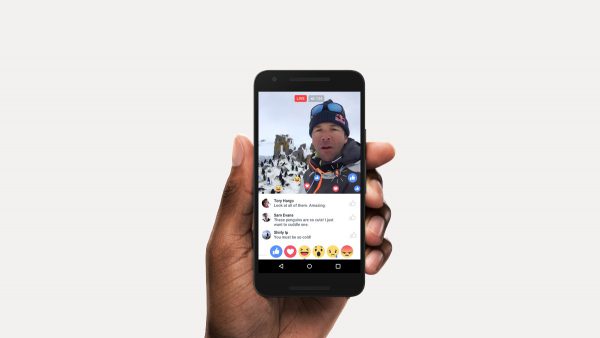 By now, we're all aware that Facebook is more than just a social networking platform, so its service is not only limited to posting statuses and pictures. In the early days, Facebook's live streaming services were only made available to popular actors and performers.
But that's not the case anymore as every Facebook user has access to online and mobile live streaming services. Users can watch live streams on Facebook Live on a web browser and on the official Facebook app.
Sharing live videos with all your friends or specific groups is also possible, and like the other live streaming platforms on this list, during a live stream, broadcasters can see and reply to viewer comments.
Facebook makes it simple to live stream. All a live streamer has to do is just tap the "Live button" under the status update to start their broadcast. A Facebook Live stream can be private, involve a specific group of friends, or be completely public.
It's really easy to add filters and text in the live broadcast feed, as well as color on the screen. Options for changing the front and back camera are also possible, and a donation button allows viewers to get involved in other ways.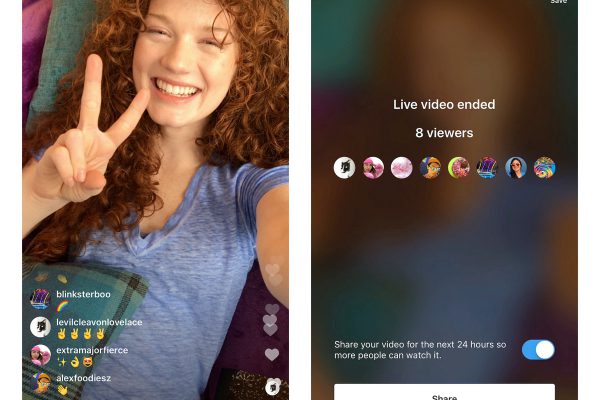 Instagram launched the Live Stories feature in late 2016, and currently has more than 500 million daily active users. The Live Stories feature comes fully-baked into the default Instagram app. To broadcast a live video, a live streamer simply needs to swipe over to the right in Instagram and tap on the "Live" option.
Like Facebook and some of the other live streaming platforms we've covered on this list, Instagram Live stories allow viewers watching a broadcast to engage with the live streamer by liking and commenting during the mobile live streams.
Once a live video has started, Instagram sends a notification to some of your followers. Others can see a "Live" tag on your Instagram story and watch the broadcast. Instagram allows the broadcaster to share live videos for up to one hour, but the content becomes unavailable as soon as the broadcast ends.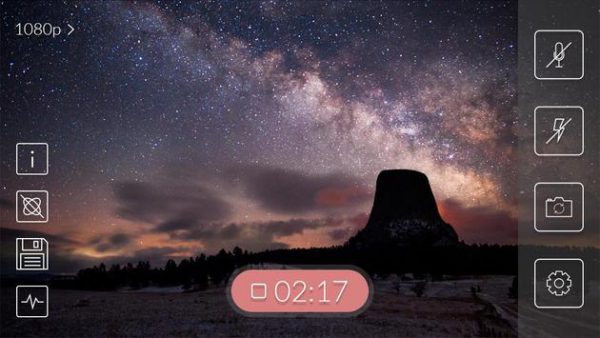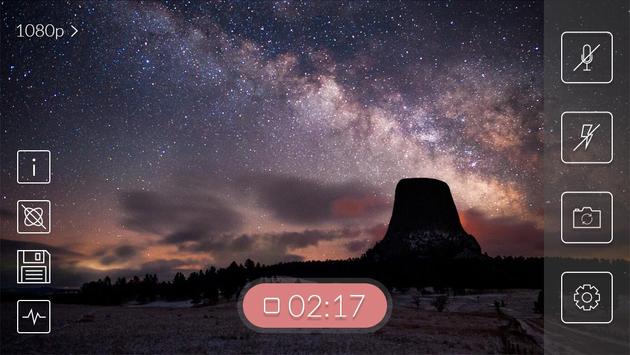 Broadcast Me is a free live streaming app for Android and iOS operating systems (the platform used to cost for iOS users but has recently been made free to use). The platform uses a multimedia server that supports real-time messaging protocol publishing (RTMP) in order to function effectively.
For stable and professional streams, Broadcast Me requires streamers to encode live video streams with H.264 video codec and AAC audio codec. As it requires somewhat of a technical understanding, Broadcast Me may not be the best mobile streaming app for all users.
Using Broadcast Me means you can broadcast live on almost every social media network like Twitter or YouTube, made possible by integration with these platforms and a whole host of other various applications. There are no limits to the range of Broadcast Me.
It's important to mention that with the new Broadcast Me pricing policy and terms, the live streaming platform now offers unlimited streaming. However, users must make a one-time upfront payment of $5.99 for lifetime access to access this feature.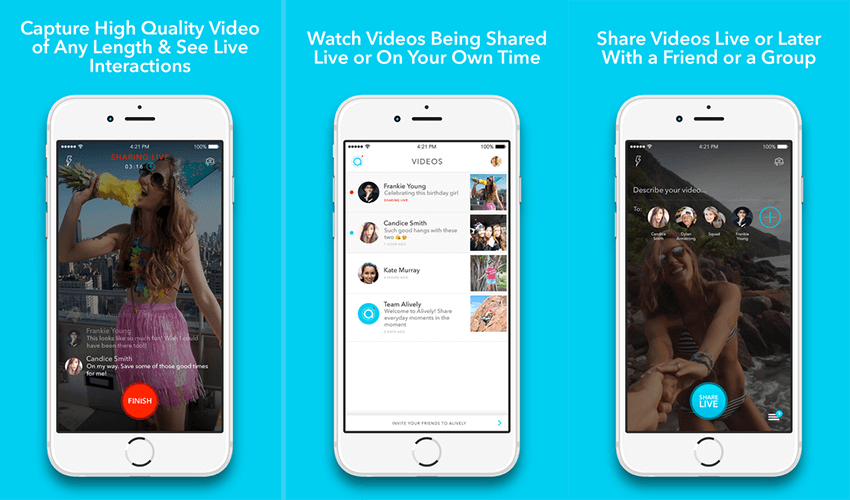 PopLive, formerly known as Alively, is ideal for anyone who doesn't enjoy the public exposure of posting live broadcasts to massive social media networks.
Available on both iOS and Android, PopLive has the charm of an intimate sharing experience while using the broad concept of live streaming. Currently, the moment a user downloads PopLive, they will begin to receive relevant alerts about real-time broadcasts by syncing the app with existing contacts lists.
Unlike other live streaming apps on this list, PopLive, surprisingly, doesn't use hearts and likes. If you're looking for engagement with a wide range of users, this app may not be the top option.
When a live streamer adds any live footage or content, the app's servers automatically save it in the cloud to preserve precious smartphone storage. PopLive claims they offer high-quality streams by delaying broadcast to 30 seconds. This way, viewers can receive clearer images in near real-time.
But, the best feature of them all?
Synced contacts don't need to have the app installed to tune in to your live broadcast and start watching. Viewers can be sent videos using SMS, which automatically plays within their messaging platform with original quality.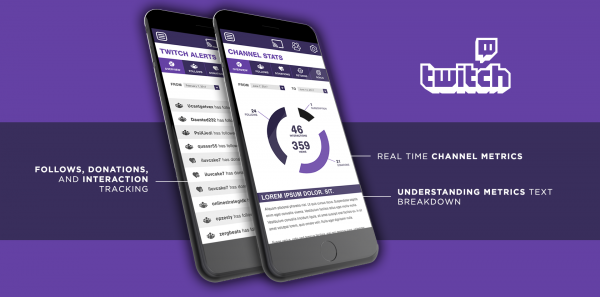 A subsidiary of Amazon, Twitch.tv is a live streaming platform (desktop and mobile, iOS and Android) processing around 10 million active users on a daily basis.
The app is primarily designed and targeted for the gaming community to broadcast gameplays that can be followed and watched by fellow gamers signed on the live streaming platforms. The mere fact that the platform gets more than 2 million streamers monthly means there's huge potential in E-sports live broadcasting.
Immediately after signing up to Twitch, users can start watching gaming tournaments, editorials, and game events by video game publishers. As for Twitch Premium subscribers, users get access to a completely ad-free account, but can also unlock exclusive game content. The premium version also comes with the Amazon Prime membership.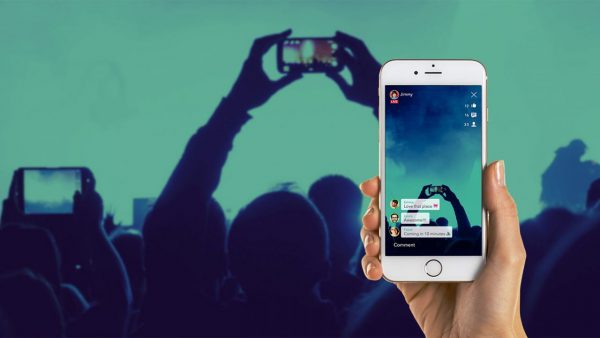 Streamago is a live streaming app for both iOS and Android that enables broadcasts of live videos to a Facebook community, friends, or completely publicly.
Live streamers can send virtual gifts to your viewers using real money on top of the standard comments section. There's also an intuitive search option to help users discover the most popular and trending broadcasts, allowing broadcasters to broaden their range.
Streamago's replay feature comes in handy by enabling viewers to replay a live stream after it has ended. Allowing users to go back and watch your content means they won't miss out on your next broadcast. While you're broadcasting, you can select the broadcast quality to be low, medium, or high depending on your internet connection or bandwidth.
How to Choose the Best Live Streaming Platform for Mobile Streaming
As you'll gather from this list, there are a lot of mobile live streaming options in the marketplace today. The most important thing to consider when choosing the best live streaming app is the purpose you need it for.
Consider how often you plan to live stream, where your target audience is, how you want to interact with other users or viewers, as well as operating system compatibility. Picking the best live streaming platform can be the difference between potentially reaching thousands (or more) of new customers with the click of a button.
But, choosing the best streaming apps to fit your mobile live streaming needs is only one part of the puzzle. The next step towards success involves turning your videos and digital content into business revenue through monetized paywalls and subscriptions.
Turn Mobile Live Stream Monetization into a Reality
Quickly and easily monetize live events using our intuitive interface. JW Player gives you the essential tools needed to set up, manage and monitor your live stream, CDN, and video player. Combine the best technologies and online video publishing platforms with superb live streaming services and watch your audience grow.
Talk to us to monetize your video content today.