Update:
JW Player 7 supports the rendering of closed captions or subtitles in the video display! We support CEA-608 captions, WebVTT captions, and multiple languages to help customers increase viewer accessibility and engagement. Watch the demo that showcases a player rendering closed captions.
We also provide captions styling and toggling. Check out this demo to see how JW Player styling API allows your users to change the appearance of their captions.
To learn more about adding closed captions, read the article on our support site.
————————————————————————————————————————————————
Web video accessibility is a broad term that refers to making videos usable for all types of viewers. Traditionally, it refers to those with impairments, but more recently the definition has broadened. At LongTail Video, we feel strongly about creating the means of equal access to online video content. By building products that support features such as multi-language video captions, we aim to increase viewer accessibility. Though there are many pieces to making a video fully accessible, in this post we focus the discussion on closed captions.
Understanding Video Captions
Video captions are very similar to subtitles. The major difference is that captions describe all of the relevant audio detected in the video, whereas subtitles focus solely on the words spoken in the film. For example, if a phone is ringing in the background a caption will display something like, "the phone is ringing", and a subtitle will display nothing. Captions are "closed" when a user can toggle the captions on/off during video playback. Captions are "open" when they are burned directly into the video, which means they are displayed 100% of the time. Making sure your captions are closed is important – it allows you to support all types of users with the same piece of media, increasing both accessibility & inclusiveness.
The Current State of Video Captions
Captions have conventionally existed for television, but only more recently have been introduced into online video. Although The World Wide Web consortium (W3C) has established a set of guidelines known as Web Content Accessibility Guidelines that provide a standardized and definitive set of rules for how to develop accessible online content, online video accessibility federal regulations are still in their infancy.
Since 2010, American accessibility advocates have urged Congress to modify an existing bill that would mandate captions for any online video that has also appeared on TV. Just last month, the Federal Communications Commission (FCC) released their final rules on closed captioning for IP-delivered video programming. Though only a small step towards a more universal regulation, it applies to all full-length video television programming in the United States, previously distributed with closed captions.
As closed-captioning of online video programming emerges, speed of adoption is key. Whitehouse.gov is an early adopter who uses the JW Player with our Captions Plugin to display their cataloged live broadcasting footage.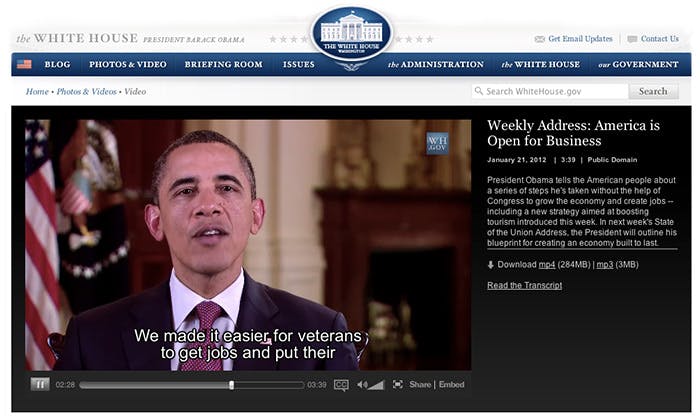 Hulu's CTO, Eric Feng quotes that "users send us feedback about closed captions more often than almost any other feature, so what started as a small side project has turned into a very important part of our user experience…".
Video Captioning Tools
In our own product development at LongTail Video, we see similar requests, and have recently pushed two product updates for online video captioning:
Bits on the Run Video Captioning – we now allow users to upload captions in the SRT and DFXP formats to the Bits on the Run Dashboard. Users can then publish their videos with closed captions for accessibility and Section 508 compliance. In addition, videos can now be published with multiple subtitle tracks, for viewers language selection.
JW Player Captions Plugin for HTML5 – we recently updated our Captions Plugin to support both Flash and HTML5 mode. This means closed captions will now appear in both the Flash and HTML5 rendering mode for videos embedded with the Captions Plugin.
Aligning with the trends in industry, the tools in which closed captions are created have improved as well. Services such as Subtitle Workshop and Jubler are offline tools used to edit text-based subtitles, or in our case, closed captions. Online services that we recommend are Universal Subtitle and our partner, dotSUB.
Added Benefits of Video Captioning
What video publishers may not yet realize is that there is more to captioning videos than simply increasing accessibility among the hearing-impaired. In fact, there are quite a few side benefits such as:
Mobile video – when users watch mobile video, sound is not always available, or loud enough.
Language barriers – for non-native-language viewers, closed captions make it easier to follow the video.
Search engine indexing – as quoted by Google: "When you start adding text to all of your videos, search is aided tremendously." Textual descriptions of your video footage increase the accuracy of the content indexing.
In-video search – with your text indexed, it becomes easy to implement an in-video search which allows a user to jump directly to a particular section within the video. Check out Hulu's implementation of their captions search feature.
As video captioning enters the HTML5 market, and standards are developed around theelement, captions will become even easier to publish.
With big names in video like Hulu and YouTube (where captions are included on all English-language videos uploaded after April 2010), putting emphasis on closed captions, we can be certain that the future will indeed be captioned. We encourage you, as a video publisher, to start experimenting with video captioning and create a workflow where closed captioning is a regular part of your video publishing process.