We recently released brand new versions of our Bits on the Run Android app and Bits on the Run iPhone app to bring you mobile analytics, Facebook and Twitter sharing, and some important system updates. The apps are labeled version 2.0 because we rewrote a lot of our code and included several great new features.
What Makes Sense For Mobile?
We began our design process by looking at how people use their mobile phones, comparing that to the way our regular dashboard works. Most people use their phones for staying on top of things and for fast sharing of new experiences. For most non-urgent, work-related tasks, however, people turn back to their desktop or laptop computers.
We took this idea and analyzed each of the features in our regular Bits on the Run dashboard to see if it made sense to include in a mobile application. Currently the regular dashboard has 7 sections: Home, Videos, Players, Playlists, Analytics, Settings and Billing.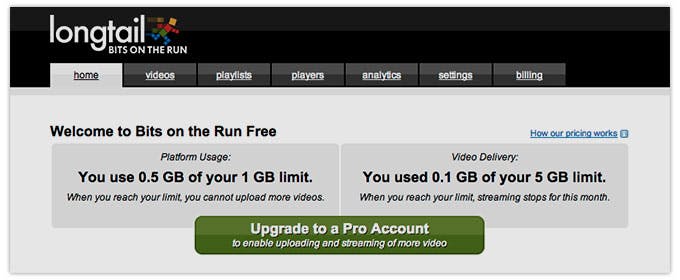 We decided that 3 of these sections include functionality useful on a mobile phone: Home, Videos and Analytics. The others are less suitable for a phone since they deal with customizing our system to your preferences – not your everyday task.
Features By Section
Let's take a detailed look at the sections we did choose to include in the new apps.
Home
The dashboard home section is the point of entry into our system. It keeps you up to date about your streaming and storage usage and about important updates to our system. This is information you won't want to miss when you are on the go, so in our new apps we gave you the ability to view your balance and receive system alerts, just like from your regular dashboard Home.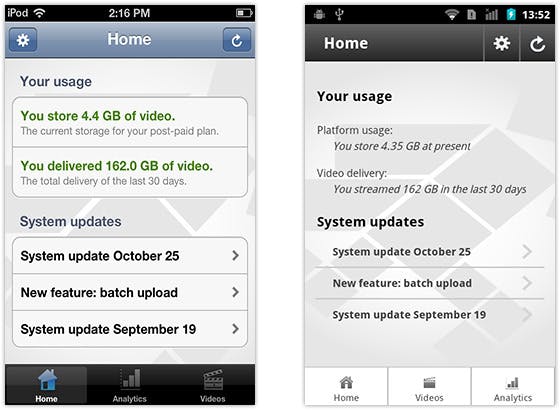 Analytics
Some of our serious Bits on the Run users are constantly monitoring their video views. With our new mobile apps, you can easily track your total views as well as monitor your top videos. You can pick a timeframe and check how your videos are doing while you are on the road. The graph can be inspected in more detail if you rotate the screen to landscape mode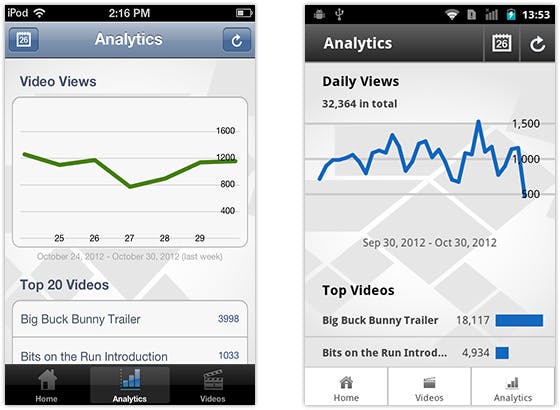 Videos
The third and last element we built into the new apps pertains to your videos. The new apps keep most of the functionality of the original versions, but add some new stuff as well. For example, you can still list and edit all the videos in your account and watch and stream via airplay (iPhone app only).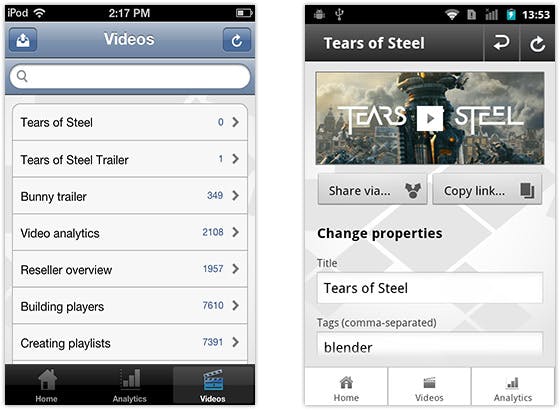 The sharing options in the new apps have been expanded significantly. Besides copy-pasting the embed code or preview link to another site, you can now share directly from inside the app to all the sharing options your phone offers. On iOS these are Twitter and Facebook and on Android it's everything in your sharing screen (including Facebook and Twitter).
Looking To The Future
The best way to get to know our apps is to start using them. You can find them by searching for Bits on the Run in Google Play or the App Store, or by clicking these links:
There is a lot of great stuff in the new apps, but we're already looking to the future. Right now we're investigating push notifications for low usage balance or important system updates. We are also planning to include more elaborate analytics, because they allow you to stay on top of things, and are really fun to watch. Last, a solution to replicating the Airplay functionality on Android is high on our wish-list.
Any ideas, comments or suggestions? We would love to hear from you about what you'd like to see in the next update of our apps!