Here at LongTail, we have a unique opportunity to observe and understand how video is being watched over the Internet. Our popular video player (JW Player) and video hosting platform (Bits on the Run) provide us with insight on video and device viewing habits. With the increasing popularity of tablets, we decided to have a closer look at just how this new class of devices account for video consumption across the Internet.
Not only are tablets emerging as a new class of devices in their own right, shipment numbers indicate that they might even overtake personal computers in the near future. In Q3 of 2011, Apple shipped 15.4 million iPad tablets, more than the total volume of personal computers sold by each of PC heavyweights HP, Dell and Lenovo. More recently, in Q2 of 2012, Apple shipped 17 million iPad tablets globally out of 24.9 million tablets in total (Android tablets accounted for 7.3 million of those).
So how are tablet users watching video? Which are the most popular tablets used for watching video? And at what times of the day or week is video playback peaking in tablets?
This blog post shares some of the findings we find most intriguing. Note that the tablet market – like any other emerging technology – changes rapidly (we have a note in this post about how the Nexus 7 is already shaking up the low-end tablet market). So stay tuned for updates!
iPad Dominance
Let's face it: the iPad is ubiquitous. Currently, no other tablet even comes close in terms of challenging the iPad in its dominance of the tablet market, especially in terms of watching video. (The data in this section is for video traffic on our Bits on the Run hosting service, from September 2011 to May 2012.)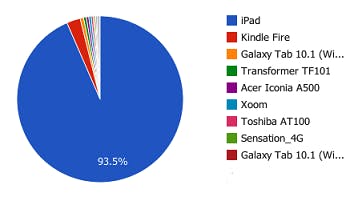 Figure 1: Marketshare of various tablets (Sept. 2011 – May 2012).
It gets even more interesting if we break it down over U.S. and non-U.S. (international) markets.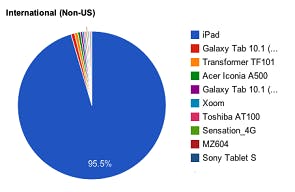 Figure 2: Marketshare by Geo (Sept. 2011 – May 2012). 
The iPad marketshare in non-U.S. markets is a whopping 95% for video streams, which makes it tower above all other vendors. In the United States, the Kindle Fire* seems to be competing for some of that market share (~5%), but only incrementally. As of now, it is really the only visible competitor to the iPad on the market.
*Note that the Kindle Fire is not being sold outside the U.S., this may mean that other tablet makers are having a hard time creating a solid competitor to the iPad.
Tablet Growth: Usage over Weekdays and Weekends
Tablet usage (in addition to smartphone usage) seems to be increasing over time. In our analysis of the overall growth of smartphone and tablet usage, we found that smartphones and tablets together account for over 10% of video consumption usage, and that their usage has been growing steadily over the past two years. (This section uses data from the free version of our popular JW Player, which is widely used on websites around the world.)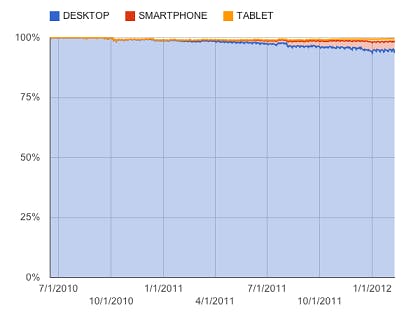 Figure 3: Growth of smartphone and tablet usage in video (July 2010 – Feb 2012).
We also analyzed how people use their tablets and smartphones to watch video, over time of the day and day of the week. This data was measured over a period of two months, January and February 2012. (For hour-of-the-day calculations, we normalize the time of day from our server logs by adjusting the hour to the user's timezone.)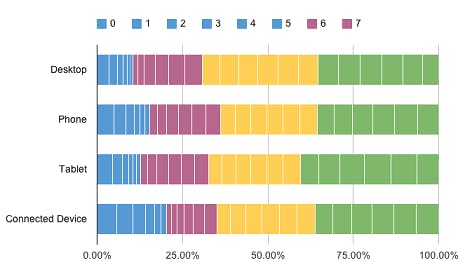 Figure 4: Device usage by time of day. Light blue indicates late night / early morning hours, pink indicates morning hours, yellow is afternoon / early evening, and green is late evening / night.
What we found was, over the course of a day, tablet users seem to predominantly use their tablets to watch video during the evening hours (after 6 pm). In contrast, connected device users (e.g. PlayStation) seem to prefer to use their device in the early hours of the morning, and so do smartphone users to some extent. Desktop users predominantly use their devices during the afternoon.
But over the course of the week, the variance of video consumption by various devices is smaller. That being said, phone and tablet usage are slightly higher over the weekends compared with desktop users.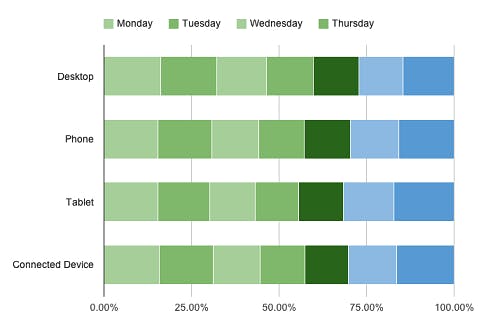 Figure 5: Device usage by day of week. Light green is Monday to Thursday, dark green is Friday, and blue is weekends.
Android Tablet Share
Not many surprises thus far – the data presented above matches what we intuitively knew about tablet market share and usage. Next, we explored a currently growing area in industry: the Android tablet market share. Let's see just how the Android tablets stack up in terms of popularity.
We counted at least 1,800 distinct models of Android over the period covered in this analysis. While these 1,800 models are distinct model numbers, they appear not to represent distinct devices. For instance, the Samsung Galaxy Tab tablet actually has different model numbers for each of its various screen size offerings (7 inch, 8.9 inch, and 10 inch versions). In addition, each screen size model might have different model versions for its different feature sets. For example, the Samsung Galaxy Tab 10.1 WiFi only tablet has a model name GT-P7510, while the Galaxy Tab 10.1 WiFi and 3G model has a model name GT-P7500. Samsung also seems to have different model names for the exact same device in different international locations, complicating things a bit more.
Our analysis of the Android-specific tablet market verifies that the Kindle Fire currently dominates the Android segment.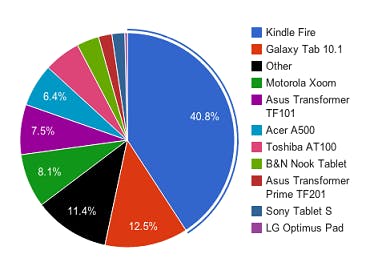 Figure 6: Market share of Android tables (Sept 2011 – May 2012).
As seen in the image above, the Kindle Fire accounts for the single largest Android tablet consuming video, accounting for 40.8% of all Android tablet video impressions on our video hosting internationally (the above graph is from November 17, 2011, when the Kindle Fire launched, up to early May). For this time period, we found the Kindle Fire to be the largest Android device consuming video across the entire Android phone and tablet range (though only tablets are represented in these graphs). These numbers seem to be corroborated by Flurry's analytics data.
However, there is one interesting phenomenon that we observe. While the Kindle Fire has shown spectacular growth over the last few months, it seems to have peaked shortly after the winter holiday season (Dec 2011 – Jan 2012), and seems to be more recently declining. This is along the lines of what others have found.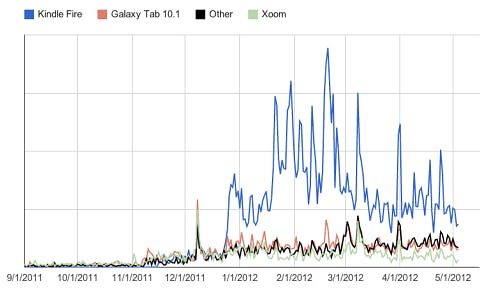 Figure 7: Growth of Android Tables (Sept 2011 – May 2012). Solid black line represents non-specified Android tablets.
Interestingly, there seems to be no massive change in the growth of other Android tablets – even the Samsung Galaxy Tab 10.1 is showing only moderate signs of growth, indicating that Android tablets still have a long way to go in terms of challenging the iPad's dominance. (The dark black in the graph that is second to the Kindle Fire represents all other Android devices not listed individually.)
The share of Android version numbers, across tablets, is shown below. You will see that the usage of Android 2.2 (Froyo) is dropping steadily, and Android 2.3 (GingerBread) has the largest marketshare, even among tablets. Android 2.3 numbers are actually boosted by the Kindle Fire, which runs on Android 2.3.4. In the meantime, usage of Android 3.x (Honeycomb) seems to be at a standstill, but usage of Android 4.x versions is growing steadily. (The drop in Android 2.2 in our graph in February 2012 is due to our dropping Flash support for Android at that time, which resulted in those users registering as downloads rather than streams on our system).
Wait, Android 2.2 tablets, you say? That's what we asked ourselves too – until we found out that the majority of Android tablets sporting "Froyo" were either Dell's 7-inch Streak and the Toshiba Folio, which accounted for about 60% and 30% of the Android 2.2 tablets that we saw in our measurements.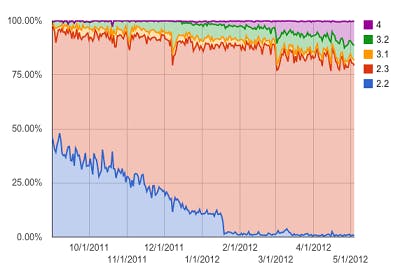 Figure 8: The marketshare of various Android versions, for tablets only (Sept. 2011 – May 2012). Note: Embed support was dropped for Android 2.2 in Feb. 2012.
At this point, you may be asking: "Hey, what about the Nexus 7 launch? How does that alter the Android tablet marketplace?" We have been asking ourselves the same question! The Nexus 7 is still in its early days – after all, it was only announced at the end of June, with the device reaching consumers in late July 2012. But, we have a sneak peek at the latest numbers that help answer the question of whether users are buying the Nexus 7 and using it to watch their videos…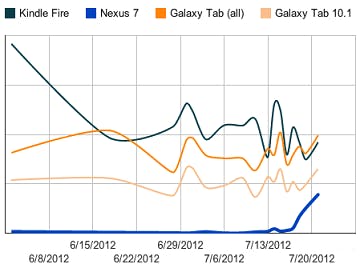 Figure 9: A comparison of video streams from Amazon's Kindle Fire, Samsung's Galaxy Tab (all models and 10.1 specifically), and Google's Nexus 7 tablet that was just released.
… and the answer is, yes, they are! In fact, from our measurements, video streams played on Nexus 7 tablets are now already at about 35% of Kindle Fire streams – and that is only a few days after launch. Even more interestingly, when we include Samsung's Galaxy Tab in our measurements, we see that video streams from all models of the Galaxy Tab are starting to exceed those from the Kindle Fire for the first time since the Fire was launched. (Streams played on the Galaxy Tab 10.1 accounts for about 60% of all Galaxy Tab streams.)
What the Future Holds
As we noted at the beginning of the article, the tablet industry is still an emerging market, and we expect very interesting changes in tablet market share as well as video viewing habits as the devices and the market itself matures. As we just saw, Google's release of a low-priced Nexus 7 tablet is already having a large impact in the Android tablet market, though its too early to tell whether it will emerge as a competitor to the iPad.
There are some trends in the near future that will be interesting to watch: how will the upcoming launch of newer Android 4.1 (Jelly Bean) and Windows 8 tablets later this year shift the tablet industry and video viewing habits? Will Apple be able to continue its massive dominance of the tablet market (and hence video viewing on tablets) through new versions of the iPad?
These questions will be answered by the market and consumers as these new devices roll out. And when they do, LongTail Video will be tracking these trends.