As Small Business Saturday approaches, we would like to show our support for small businesses with a special promotion on our pro and premium player editions! These products offer streaming, branding, and analytics to help your business optimize video marketing.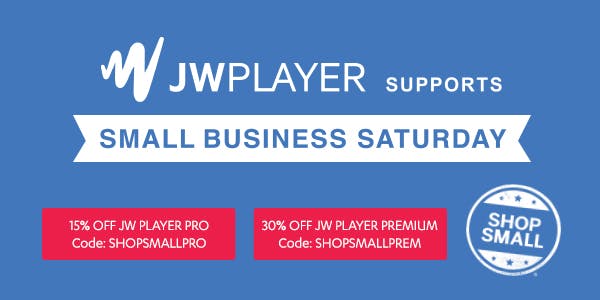 JW Player understands small business owners' most pressing needs are acquiring customers and increasing revenue. We want to show you how online video marketing can help you solve these challenges:
Reach more potential customers by improving your SEO: Search Engine Optimization is the practice of improving your website's visibility in Google's search results by ensuring your content is captured in search engines. It is so important that 70% of media publishers optimize their videos for SEO. Since Google prioritizes original and engaging content in its search engine algorithms, video results have been noted to be 50x more likely to land on the first page. Check out our whitepaper on "8 Steps to Master Video SEO" so you can start reaching more customers.
Maximize revenue by controlling your advertising: When you monetize with video advertising on YouTube, you're letting YouTube decide which ads to run in front of your video and where end-of-video traffic is redirected. Today, with technologies like JW Player, it's easy and cost-effective to create an Owned and Operated video destination site that lets you take control of your brand, your traffic, and most importantly, your advertising revenue. Read more on how to build a "Multi-Channel Video Strategy" and start taking control of your advertising revenue.
Online video is growing at lightning speed – it is expected to represent 79% of consumer internet traffic in 2018. This is a number too high for any type of business to ignore, small or large. Take advantage of our special offer to get started and remember… videos are one of the most effective ways to engage an audience and grow your business!