As more overall video consumption moves online, Video advertising has experienced significant growth over the past several years.  The Interactive Advertising Bureau's (IAB) annual Internet Advertising Revenue Report (U.S.) has shown an annual growth rate (CAGR) of more than 30% per year since 2007.  PricewaterhouseCoopers' "Global Media Outlook" supports this position, projecting growth in the video's share in overall advertising revenue to over $12 billion in 2017.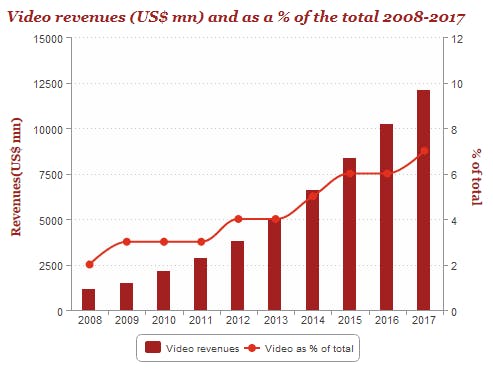 source: PWC Global Media Outlook
Indeed, data from our own JW Ads players in October of 2013 shows nearly more than double the monthly impressions compared to 12 months earlier.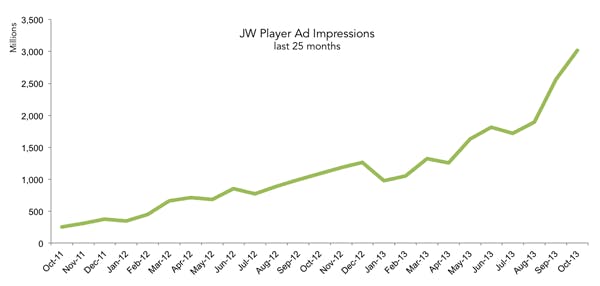 Not surprisingly, there are myriad ad technology companies in market to help fuel this growth.  Luma Partners' latest "Video Lumascape", which documents the video advertising landscape, shows more than 30 companies whose services are at least partly oriented towards video publishers.  While the sheer number of companies and services available to a video publisher may seem daunting, the truth is that we've built the JW Player in a way to make integration with any of these providers a relatively simple process.
JW6 natively supports VAST and VPAID, the IAB's standards for video advertising serving and interaction. VAST (Video Ad Serving Template) establishes the essential language (via xml) to enable communication between your site's video player and any ad technology provider (generally an ad server and/or exchange). The VPAID (Video Player-Ad Interface Definition)  standard furthers the effective communication between the player and a specific ad-unit, enabling interactivity and data collection within a well-defined set of features.  The combination of these standards establishes a common framework for all players and ads to function similarly–even the real-time bidding marketplaces and exchanges have been built to work within these standards.
Prior to standardization, video advertising required significant customization and a relationship with a specific ad network or partner was a long-term investment.  This is not to say ad technology partners are all the same, only that working with a new provider is easier than ever.  While standards have normalized the types of data that these partners work with, it is what they accomplish with this data that ultimately matters.  Here are a few things to consider when selecting ad technology partner(s):
Transparency: look for partners who are willing to explain to you their process for securing you the most money per impression possible, ensuring that you actually understand what they do (and how it is different from others).
Performance: understand how the partner can help you measure and improve upon performance
Test test test: don't be afraid to compare partners head to head.  Using the analytics from JW Player, you'll have a consistent benchmark for measuring your ad impressions for distinct periods.
To get started, you'll first need to sign-up for the ads edition of JW Player 6, which complies to all essential IAB standards.  If you need help understanding the technology partners available for monetizing your video streams, our client service team would be happy to help.  Lastly, if you any questions or suggestions, make your way to our forums where our product support team and other users of the player can help guide you to your answer.
Go forth and monetize!