Note: Inplayer is now JW Player. Read more about JW Player's acquisition of Inplayer here.
"InPlayer is a time saver. They contact you immediately if there are any customer support issues. If a customer wants a refund they will give you the customers reasons why and ask you if you'd like to refund the customers. They set up everything on the back end such as the landing page to make it simple and easy for customers to identify which game they would like to purchase. They are on their job and do it very well."– Marissa Holbert, Creator at Pass Tha Ball
The sporting landscape is changing and modern digital stadiums have unlimited capacity.
Sports fans and followers of today are craving more access, data and content from the teams and events they most care about. The days where revenues are limited by stadium size or fans ability to attend in person are gone. Content owners are increasingly turning to streaming and monetization technology to secure a potentially infinite number of viewers.
It is an undisputed fact that sports sells subscriptions. With a cloud-based infrastructure capable of handling live content day in and day out, there is an increasing amount of interest being shown in carrying live events to dedicated audiences worldwide.
InPlayer's Paywall technology has enabled leagues, federations, clubs and tournaments across more than 40 sports to not only improve engagement, but also drive significant digital revenues from Pay Per View and Subscription.
We are helping our clients build their digital stadiums which can create potentially very lucrative returns.
One of those clients is Pass Tha Ball. In this case study, we're going to demonstrate how Pass Tha Ball is using InPlayer's paywall solution to successfully monetize their girls basketball portfolio of events including the 2019 Boo Williams Nike Invitational
Pass Tha Ball is a sports marketing and event management company specialising in basketball production. They provide a digital platform where some of the highest profile events in girls basketball are live streamed across the USA. Not only are friends and family able to then tune in but crucially colleges and schools use the platform to scout players.
One of these events is as has been tradition since the mid-1980s (2019 is year 35), the Boo Williams Nike Invitational is held in Hampton, Virginia.
As has been tradition since the mid 1980's (2019 is year 35), the Boo Williams Nike Invitational (presented by the Boo Williams Summer League) was held in Hampton, Virginia.  The primary sites were again the Boo Williams Sportsplex and Hampton Roads Convention Center with 231 teams participating at these venues during the weekend of April 26-28, 2019.
The event had sections ranging from middle school up to multiple divisions for rising seniors or younger players.  Concurrent with the tournament, 32 teams participated in the first stage of Nike's Girls EYBL (Elite Youth Basketball League), which will conclude in July.  Approximately 200 colleges (mostly NCAA Division 1) from all over the USA attended one or more days of the event.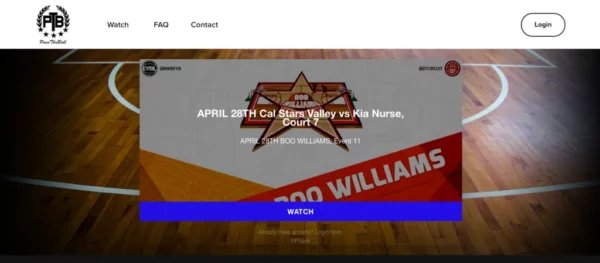 Approximately 200 colleges (mostly NCAA Division 1) from all over the USA attend one or more days of the event.
InPlayer, together with Boxcast, the chosen production and streaming technology partner player, will be supporting more than 90 live matches in total. InPlayer has created a landing page specifically designed for the Pass Tha Ball, where fans, scouts and the like can see the games in one place: https://passthaball.inplayer.com/