The fitness app market is set for a staggering 70.926% growth in profitability over the next 4 years. And that's with projected revenue, hitting $19.33 billion in 2023 and $33.04 billion by 2027.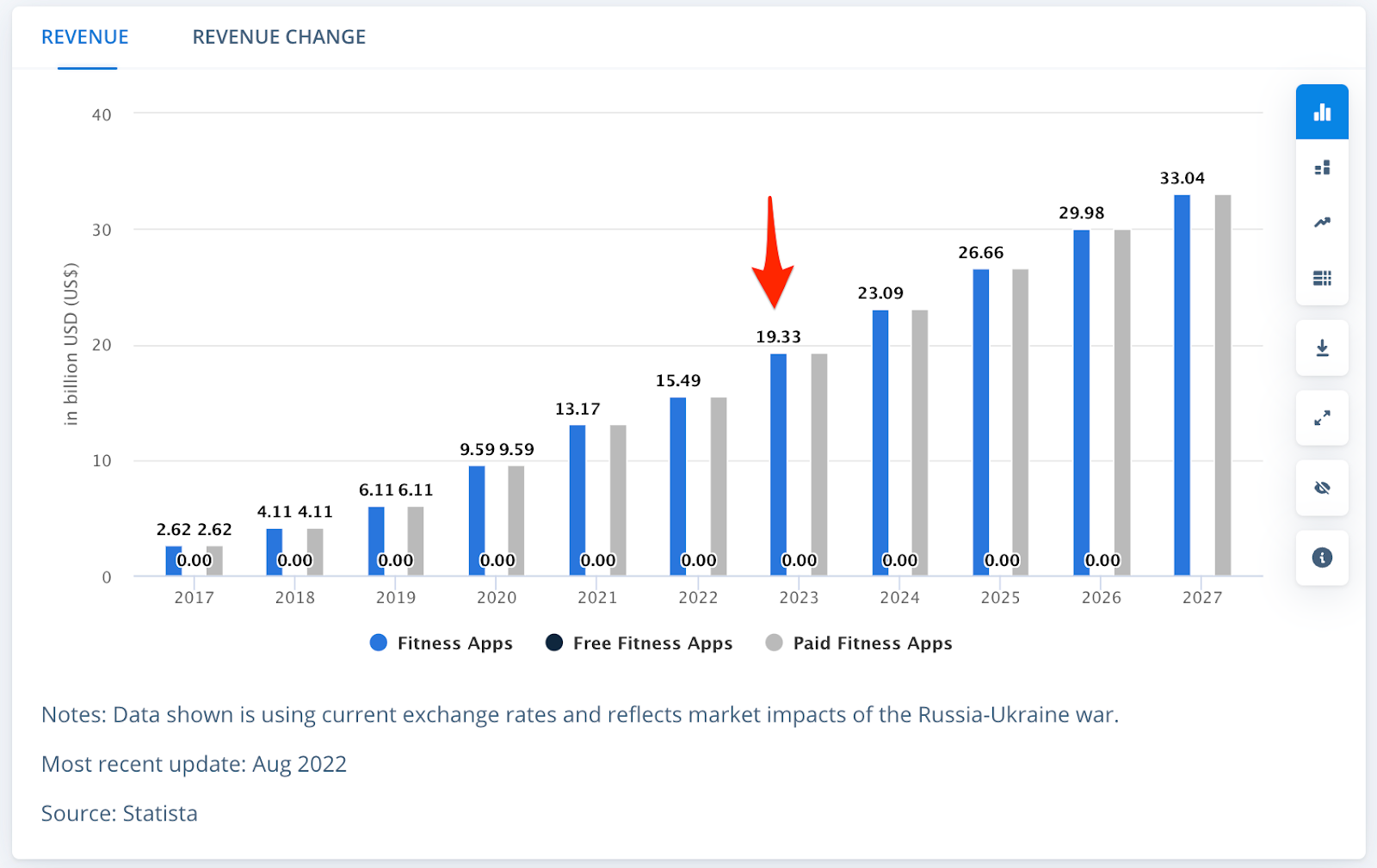 If that's not enough to show why a custom-branded fitness app is crucial to anyone in the fitness industry, how about this?
Creating your own video fitness app also:
Opens up a world of revenue streams and potential clients across the globe.
Elevates you in the eyes of prospects as a top-quality app-store-worthy brand.
Showcases your talent and worth to anyone who might either work with or hire you.
Let's take a deeper look at some of the can't-miss benefits of having your own app…
Why a video app is important for fitness businesses
Everyone has a website, but only the elite have an app.
There are five key benefits you get from creating and owning your fitness video app:
Benefit #1: 100% Owned Brand Awareness
You can't get anywhere without a strong brand awareness; if you've ever dabbled in social media, you'll know this first-hand!
The problem with creating a brand solely on social media, however, is you don't own it. You're renting a spot on someone else's stage.
But creating your own fitness app means you finally own the stage. Your content is instantly accessible to all your clients, gym members or wanna-buff hopefuls dreaming of their forever summer bod.
You might ask, "Doesn't a website do the same? Or an email list?"
Yes and no, but apps lift you to the next level. They're a stamp of quality for any business, fitness or otherwise, and give you a massive leg-up on your app-less competitors.
There's also a powerful psychology at play when you're regularly seen, and having your app icon on someone's phone screen achieves that in spades.
We're not saying abandon all your other branding efforts, but we are saying that building your own fitness video app is a great way to boost your online presence and following.
Benefit #2: Ironclad Communities
Creating a strong sense of community with your customers is vital. It's what turns a one-and-done "I wanna quit the gym" Tim into a "I can freaking DO this!" Chris.
And nothing builds that community better than a dedicated video app that purposefully celebrates and involves your users, by way of things like:
Early access content.
Exclusive offers and discounts.
Training reminders via push notifications.
Client sections for users to chat and encourage each other.
A supportive, inclusive, welcoming community will set you apart from the swelling pack of fitness pros trying to make a name for themselves, and encourage newbies and loyalty alike. It's as integral to any successful fitness business as your service itself. Community is often what transforms you from a detached coach or faceless business into a friend.
Benefit #3: Flexible Service = Rock-Solid Loyalty
Many people lead busy lives that get away from them. So getting to the gym or freeing up time for a next one-on-one PT session isn't always as easy as a few desk squats at the office.
By creating a comprehensive video app, you're giving people the ultimate in flexibility — a 24-hour gym and personal trainer that lives in their pocket and helps keep them on track.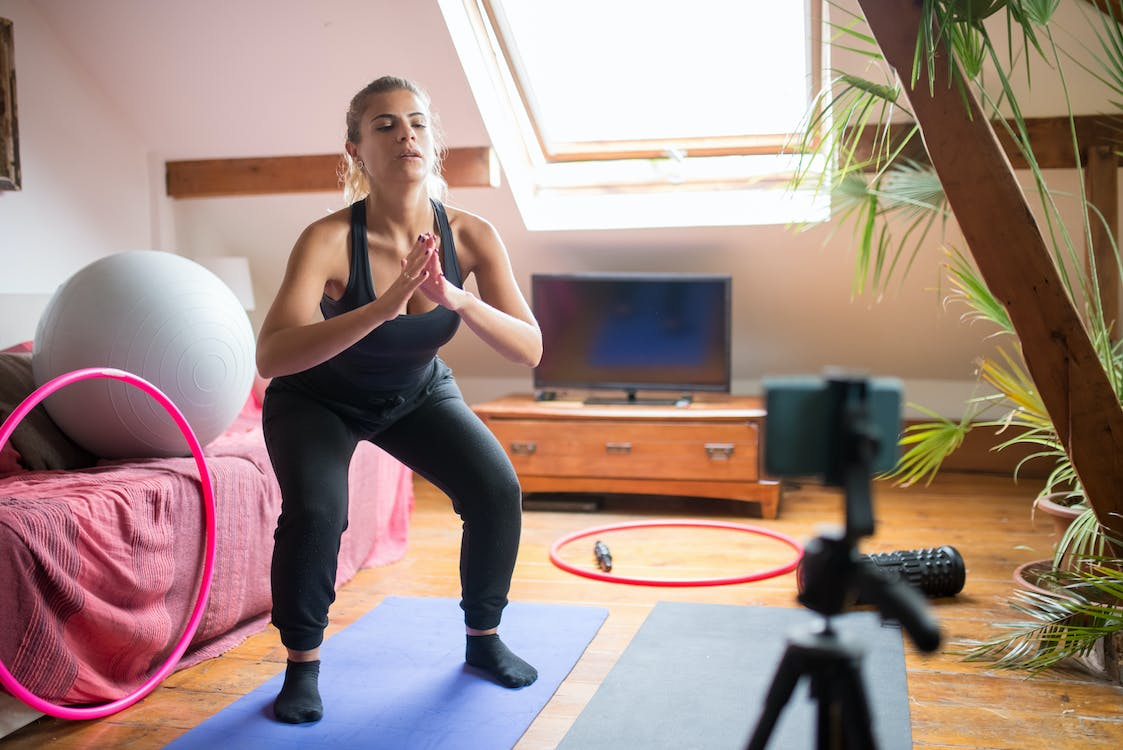 Imagine their gratitude for you being so adaptable to their needs. Imagine their appreciation for how you're always there when they need you. Imagine someone had to choose between a gym or trainer with an app, and one without… which do you think is getting their business?
Serve people the way they need you to most and you'll earn their lifetime loyalty.
Benefit #4: Insights Goldmine
Nothing is more valuable for ANY business than the raw data of its customers. Knowing their habits, what they like, hate, want and struggle with, is pure gold.
Studies show that customers tend to spend 140% more after having positive experiences than negative experiences, and their data is how you'll guarantee more of the former.
With a well-made video app for your fitness business, you'll have direct access to all that juicy user data, such as:
Exercise habits.
Favorite workouts.
Training preferences.
Geographic locations.
And more.
You'll never have to pause to think about what fitness content to create, how to structure it or how to best serve your community because the user data from your app will have told you already. Combine this with in-person feedback and you'll be practically unstoppable.
Benefit #5: Limitless Payoff
Creating your own video fitness app isn't nearly as difficult or time-consuming as you might think. It's actually a relatively easy-to-handle time investment. What's more, the ROI potential — financially and socially — is genuinely off the charts.
Video content is the most desirable form of online content, wiping the floor with your fanciest caption and best-posed photo, among any audience.
As a fitness expert, you've got an easy start. Your field already has strong visual elements, and you can easily kick things off with simple videos of you training either yourself or others.
Workout videos are an incredibly affordable way to create genuinely exciting content, in a way that flexibly fits your schedule.
8 steps to build a video app for your fitness business
So we agree? Whether you're a personal training business, own gyms or fitness studios or even simply sell equipment, having your own app is a golden opportunity you can't afford to ignore.
Great, now it's time for the good stuff — how to build your own fitness video app.
1. Identify your target users and their preferences
You won't get anywhere if you don't understand the target user of your fitness app. Just like cardio training differs from muscle-building, appealing to new moms who want to shed baby weight differs from appealing to gym rats looking to compete in body building competitions.
Here are some tips that should help:
Picture your perfect user — many businesses choose either people with similar struggles that they once faced or whoever is most likely to spend big and consistently. The choice is entirely yours.
Study your perfect user — find them wherever they are: online or in person, in forums, social media or reviews for similar products or services. Listen to their desires and complaints, keep a record of them and use that info to shape your video app into their perfect fitness partner.
Stay open to their feedback — it's like listening to your body while working out, and it's the only way you're going to keep your app users happy in the long run.
2. Identify the experts, resources and tools you need
You wouldn't dive right into a new, complex and strenuous workout without making sure you know exactly how to avoid injury. Well, this is the same step in your app development journey.
Storming ahead without taking time to properly plan and warm up is inviting calamity. It's risking wasting both your time and money. Not only that, it's a danger to your motivation and resolve.
In the same way as your expertise is essential to your perfect user, you need a collaborator whose app-development expertise is essential to you. Unless you either are or know a developer, hiring one can be painfully costly (in the US, the average app developer salary is around $116k!).
But there's a better, more affordable way — and that's where we come in.
With JWP on your team, we become your app expert. And we come fully equipped with all the digital resources and tools you need to make your fitness video app a smoothly operating success story. Just look at what we did for Galvanized Brands, the parent media company behind Best Life and Eat This, Not That! They're enjoying over 50% more views per visit since partnering with us.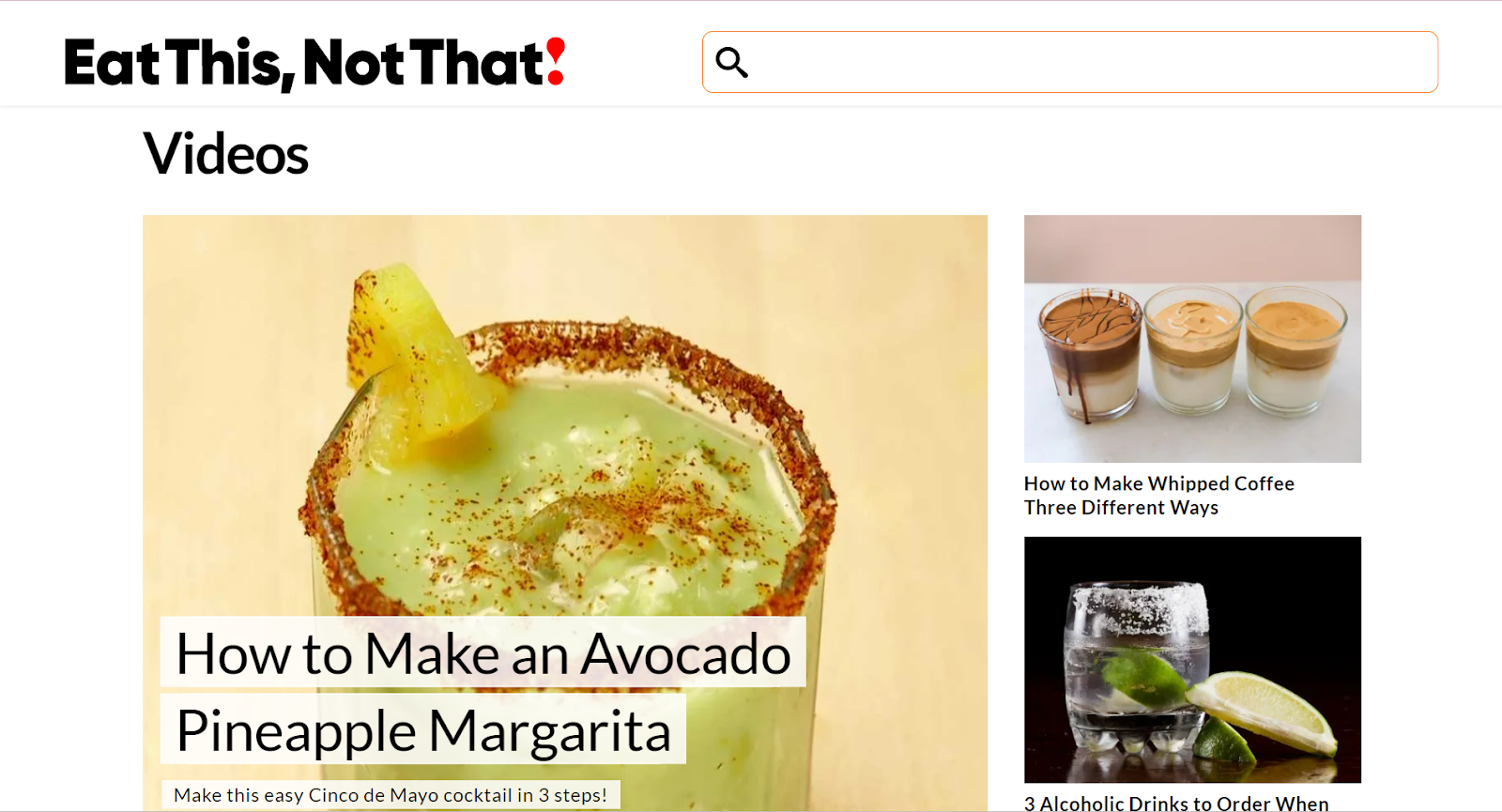 EatThis, NotThat Video Content Page
3. Plan out your monetization structure
Unless you're banking on this being the ultimate free app fitness resource, you'll need a strong strategy for making money with your app.
You've got a few options here:
Paid Apps
Users pay for your app. This can be a one-off payment or a recurring subscription (usually monthly or yearly).
Most paid apps use the recurring subscription model. Many more offer a no-obligation free trial, which hooks users and lets them try out the app before committing financially.
Pros:
A price tag conveys instant value.
Easily measurable return on investment.
Weed out people looking solely for freebies.
Cons:
Some people resist paying for any app — you'll have to work hard to convince them yours is worth it.
In-App Purchases
Users get your app for free, but with restricted access. For the app's premium content, they'll have to pay.
Pros:
More app downloads = more brand awareness = stronger community = higher revenue potential.
Flexible payment options — charge your users a recurring "access all areas" type of subscription or per piece of premium content they want to access.
Premium content gives you plenty of opportunities to upsell users.
Cons:
Flexible payment options are great for users, but can make managing your revenue streams more complex.
You'll have some users who remain free indefinitely and never become paying clients.
In-App Ads
Users get your app for free, but they'll be exposed to adverts — usually popups, banner ads or video ads that they must watch before the content they're here for. Many apps use this as a selling point to convince people to purchase the app and remove the ads for a smoother experience.
Pros:
Ads create additional revenue.
A powerful way to persuade people to pay for an ad-free experience.
Can be used alongside the in-app purchases monetization model.
Cons:
Apps with oversaturated ads often irritate people enough for them to instantly delete your app and never look back.
Almost no one actually enjoys app ads, so you risk unhappy users.
4. Determine the type of video content to create
There are many types of fitness videos you could include in your app, and it's important to know which fits your brand best. Only you can answer that — and if you've done step 1 and identified your perfect user, it should be an easy answer.
Here are some of the types of fitness videos you might consider creating:
"Follow Along" workout videos — include a timer and be sure to outline at the start what equipment (if any) your users will need. Most yoga videos fall into this type.
Demonstration videos — show your users how to do a particular workout or technique. Dig into as much detail as possible to really show them the ropes in this online training.
Home workouts — likely very similar to the "Follow Along" workouts, but specifically designed for anyone at home, with little to no specialist equipment.
Health advice — offer general daily life advice on how to stay healthy, what to eat, ways to carve out quality exercise time or anything similar.
Fitness stories — share your own or your clients' routines, goals and success stories (with their permission, of course) or even that of other fitness instructors. Get as personal and real as you can, this will help you build rapport and inspire your users.
Live classes — an excellent way to coach classes across the whole world and forge even stronger communities.
Promotional videos — keep these few and far between, but don't forget to share when you have a new product, service, or event coming up!
To keep users engaged, consider choosing a few types of fitness videos, and be sure your videos are of varying lengths. Sometimes a 20-minute video is perfect, other times call for more or less time commitment.
5. Create video content production timelines and deadlines
If you don't want to stagnate, you'll need a solid plan for how you're going to keep producing high-quality fitness content for your users. It's a cold truth, but people will forget you if you disappear from their lives — regular content is the only remedy for that.
Most businesses stay ahead of this by creating a content calendar, which covers what you'll create and how you'll go about it.
Here are a few things to include:
Content type (per previous step).
Expected creation time (allow time for filming, editing and publishing).
Production requirements (any resources you need to create the content).
Go-live date (this is the hard deadline that everything must be completed by).
A content calendar will also help ensure you're keeping things suitably varied, measuring what's working and what isn't and not repeating yourself unintentionally.
6. Test run your app
What would you do if you spent five minutes trying to use a glitchy app that wasn't playing ball? Hit uninstall, right?
Most people won't spend five minutes trying, which is why you absolutely have to test your app to make sure it's firing on all cylinders. You can find a more complete list of possible tests here, but these three are essential:
Functional test — list every possible function of your app, from launching to viewing videos, leaving comments, notifications and more, and work through them systematically to be sure everything works as intended.
Interruption test — how does your app respond to unexpected interruptions like phone calls, low battery warnings, lost internet connection or being shut down? Whether your app pauses during the disruption or reacts in a different, specific way, make sure it's doing what it should when this happens.
Speed test — check your app's loading speeds on a variety of different devices. There are plenty of tools to do this online, without having physical access to every model of Android or Apple phone. People are impatient, no one likes waiting, so don't skip this!
Remember, 87% of customers who have great experiences with your business are likely to purchase again, so make sure your app is running flawlessly and you're offering world-class support for your workout app.
7. Launch and promote your fitness app
It's marketing 101 — if you build it, they won't come. Much like starting any venture, you have to build hype for your app launch. There are loads of ways to do this, but here are some you should consider:
Stay social — document everything you're doing, from creating the app to your daily life, feelings and excitements. Share the journey with your audience on social media so they feel like they're a part of it as much as you are.
Sneak peeks — share a view of what's to come (on social media, with your email list, in person, etc.)
Partnerships — find influential people that your perfect users are already listening to, then offer them your app or services for free in exchange for a shout-out on their channels. Or, even better, find a way to collaborate with them.
Giveaways — from app or service discounts to free downloads or gifts, be so generous it almost hurts.
Launch party — virtual or in-person is up to you, but celebrate with your audience!
8. Encourage user feedback and regularly update your app
Failing to evolve your fitness app based on user feedback is as bad as failing to listen to your body during an intense new workout. It's going to cause potentially irreparable damage.
In fact, 77% of consumers prefer brands that proactively encourage and apply their feedback. Fine tuning is essential.
Whether it's via your app, your website, your emails or your social media presence, make sure it's easy for people to share their feedback and make sure they feel comfortable doing so. Show people that you're genuinely eager for it, and be sure you mean it!
Adapting to feedback is what will take your app from zero to hero. Just be sure to collect the data first; nine times out of ten, don't jump to "fix" everyone's individual gripes until you notice patterns emerging — one person's pet peeve could be twenty people's favorite feature.
Easily create your fitness video app today
We've given you all you need to create a mighty video fitness app, but why stop there? If you do it alone, you'll easily double the time it takes to have a working app. But choose JWP as your app partner, and we can have you up and running in weeks.
Since nine out of ten companies rate JWP as better than any other video platform (TechValidate), you know you're in safe and experienced hands with us on your team.
From OTT to web apps, we've got you covered no matter what route suits you.
Our customers generate 8 billion monthly video impressions, and 5 billion minutes of video watched per month, too. We make it easier than it's ever been for you to stream video, engage global audiences on any screen and monetize your content.
Contact us today and let's get things rolling.