We're pleased to announce the Public Beta release of our JW Player SDK for Android. This software developer kit (SDK) enables publishers to easily build the JW Player video and advertising features they love into native Android apps.
Cisco predicts that by 2018, two-thirds of the world's mobile data traffic will be video content. According to ComScore, 47% of Internet traffic is attributed to mobile apps (more than desktops) and the average mobile consumer spends 86% of their time using mobile apps.
JW Player for Android SDK opens this fast-growing world of native mobile apps to the community of over two million web sites that use JW Player. At the same time, this SDK empowers publishers new to JW Player to include video and audio streaming in their native Android apps.
This is our first SDK for devices, and more are coming, including iOS. Also, with the recent addition of Google Chromecast support for our desktop players, we are delivering broader device coverage for publishers to expand their audiences and increase monetization on traditional TV screens. We have a similar goal with all of our SDKs: to provide publishers with more opportunities for delivering video content and ads to phones, tablets, OTT boxes, TVs and other devices.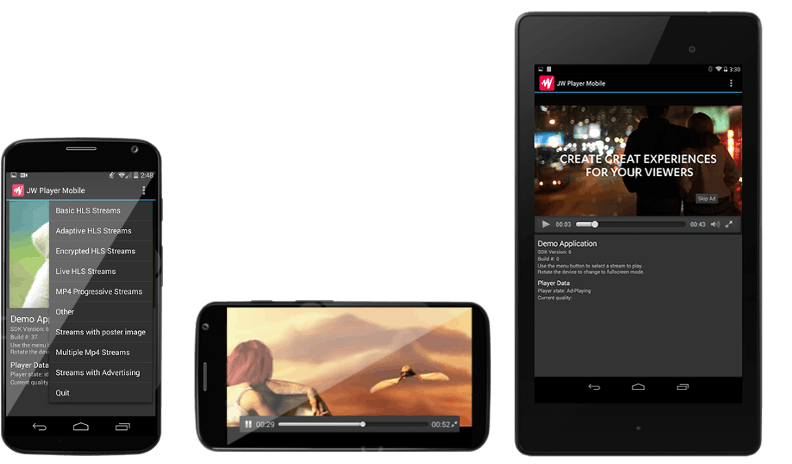 Any App, Any CDN, Any Ad Server, YOUR Branding
You can use the JW Player for Android SDK to add video viewing and advertising functionality to any kind of Android app. For example, you can include curated video content in a lifestyle or instructional app, add encrypted live TV streams to a broadcast news app, extend a music app with live radio streaming, or monetize games with lucrative video advertising. In addition, you retain full control over the user experience of your app, as well as your in-app branding.
Apps built with the SDK will work seamlessly with our JW Platform video hosting, streaming, and analytics services. However, unlike other SDK offerings, we do not require you to use our platform services; you can use the JW Player for Android SDK for video playback only and host content anywhere you want.
Key Features
Adaptive HLS video streams for bandwidth efficiency
Small screen up to 1080p high quality HD resolutions
Live and on-demand media streaming
VAST pre, mid, and post roll advertising, with skippable ad units
AES-encryption for HLS content protection
Progressive download MP4 (single/multi-rate)
User-selectable and API-controllable playback quality
Audio-only streams (AAC, MP3, HLS audio)
Customizable video player controls with full screen mode
Video playback and ad impression analytics APIs
Configurable poster image for video player
Portrait and landscape mode streaming w/phone rotation
Android Library Project (.aar), easy to integrate plus demo app
Tested on Android 4.1 and higher on popular devices
Apply Today, Public Beta is Free!
The SDK will be licensed under an annual contract with a monthly subscription fee, but participation in the Public Beta is free. To participate in the free program, apply now. Testers who provide useful feedback and become paid customers will receive 25% off the annual subscription when the Public Beta period concludes.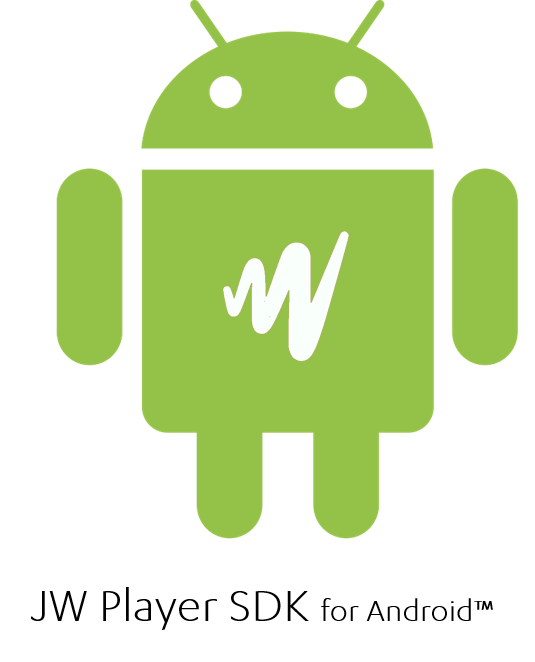 More Info
To learn more about building great video apps with JW Player SDK for Android, join us for a webinar on Thursday, October 16 at 11AM Eastern US time by registering online. We look forward to working with developers to build the next generation of awesome Android apps with streaming media.