To better understand how media companies are using digital video in 2021, JW Player undertook a study of publishers and media companies to understand their digital video needs. The responses from the survey found overwhelmingly positive results of JW Player video services and highlighted industry-specific needs for publishers, broadcasters, and online course creators.
The JW Player survey was sent in January 2021 to publishers, broadcasters, online course creators, and other producers of digital video content. The survey received 1,812 responses from 221 companies, including 51% from publishers, 14% from broadcasters, and 12% from online course creators. Using the TechValidate platform (a solution from Survey Monkey for B2B companies), respondents were able to provide honest feedback and opinions on their industry goals for 2021, as well as anonymous reviews of JW Player capabilities. Read the full report at TechValidate.com or download a copy of the 2021 JW Player Digital Video Industry Insights report.
Key Findings
The responses from the survey provide valuable insight into market trends across major industries in publishing, broadcasting, and new media. Across the board, it's evident that as video consumption increases online, so do the needs of creators to increase engagement and viewership.
Increasing video engagement is the key media challenge across all industries
New digital native broadcasters are looking to reach new audiences on new screens
Digital publishers view increasing video ad revenue as their key goal for 2021
Every company is a video company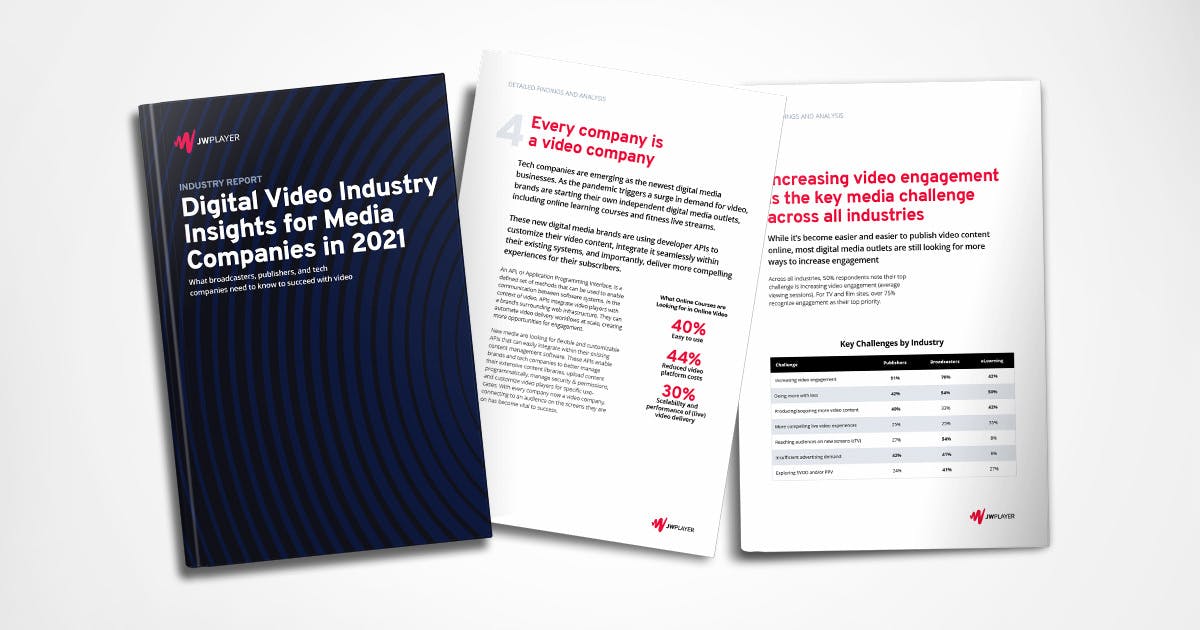 Download the Complete Industry Report
Digital Video Industry Insights for Media Companies in 2021: What broadcasters, publishers, and tech companies need to know to succeed with video
Click here to download the full report
Selected Results
88% customers increased video viewing by 10%+ with JW Player
90% customers saw team productivity increase by over 10% with JW Player
9 out of 10 Companies rate JW Player as better than any other video platform
——
Highlights from TechValidate Report
These highlights present data that TechValidate has sourced via direct research with verified customers and users of JW Player. TechValidate stands behind the authenticity of all published data. See the full report here.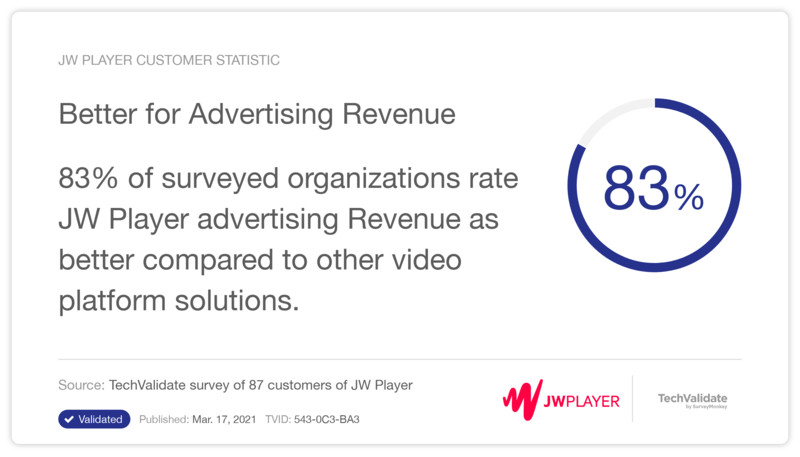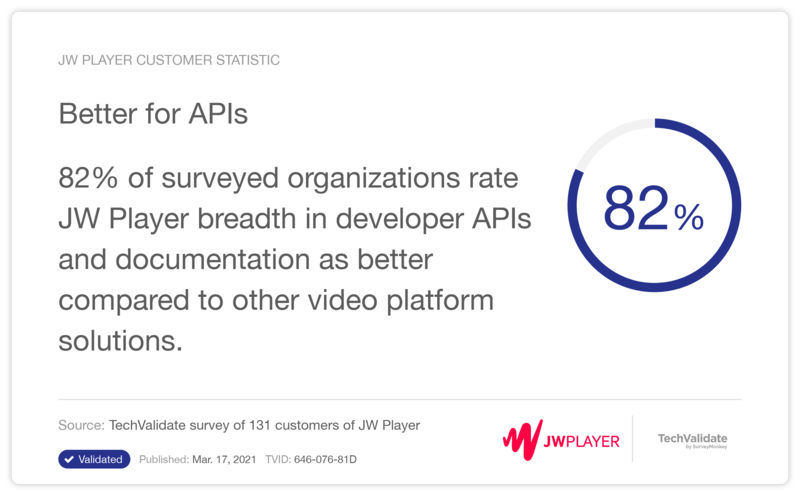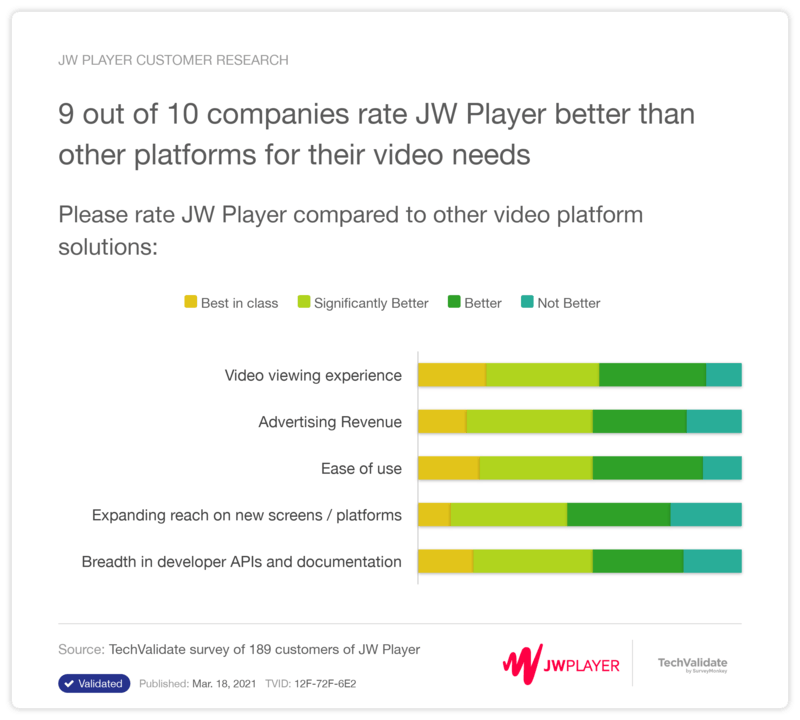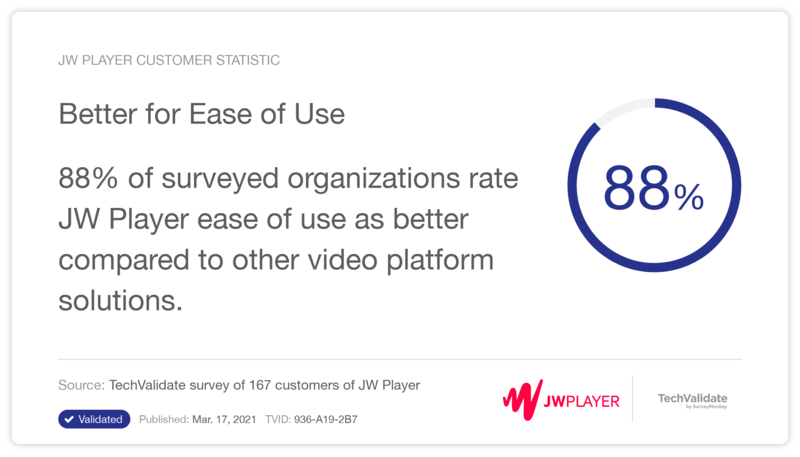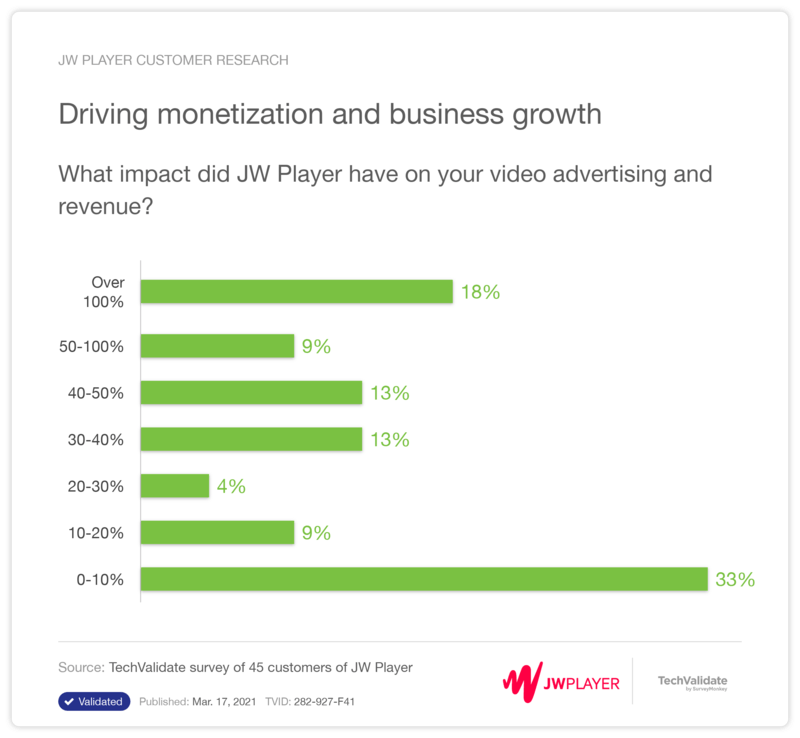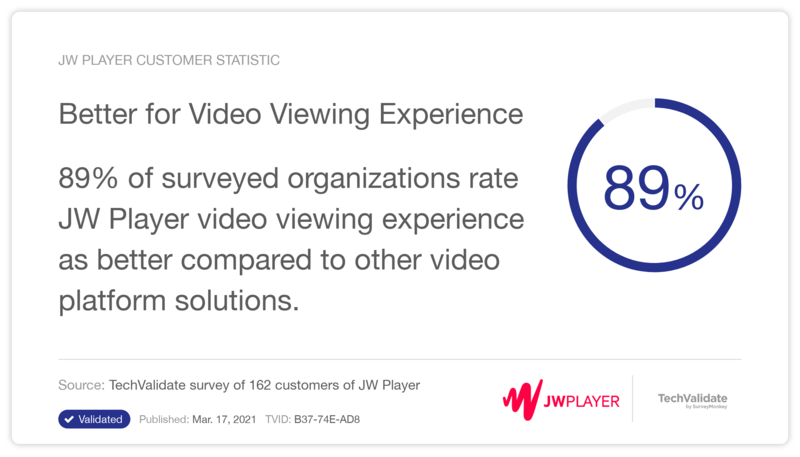 What Customers Are Saying
Nine out of 10 companies rate JW Player better than any other online video platform. More than 12,000 brands, web publishers, and broadcasters use JW Player technology to stream, play, engage, and monetize video on their sites, powering over 10 billion monthly plays across 2.7 billion unique monthly devices. See what some of our customers are saying about us below. For more examples of customer success stories, please download our case studies.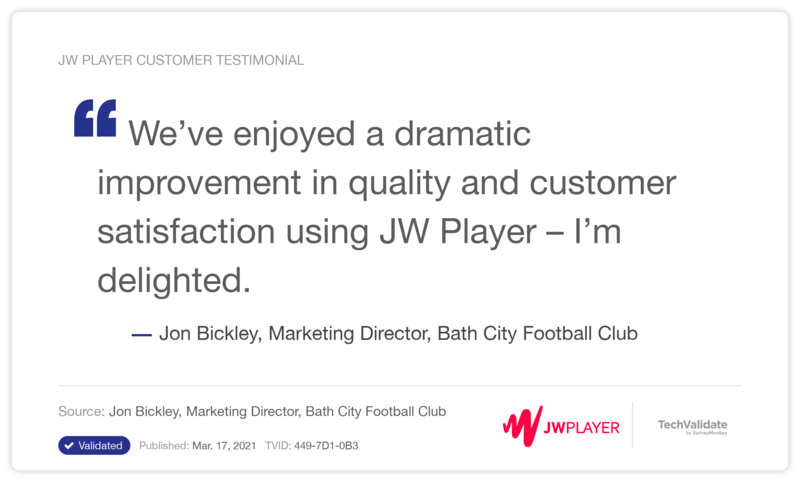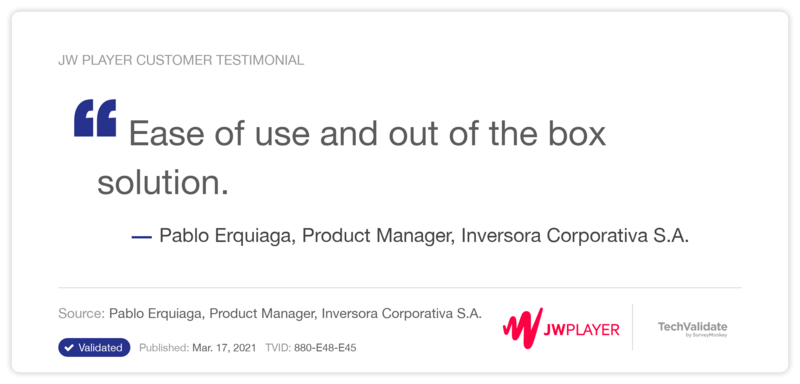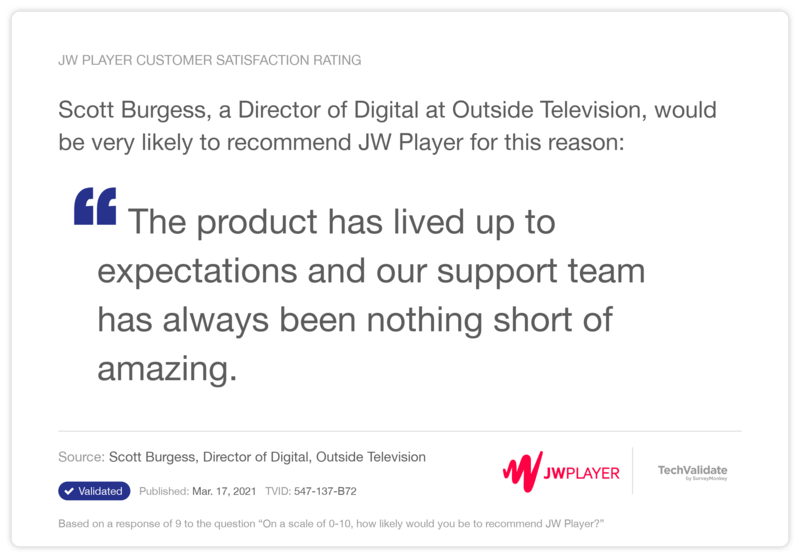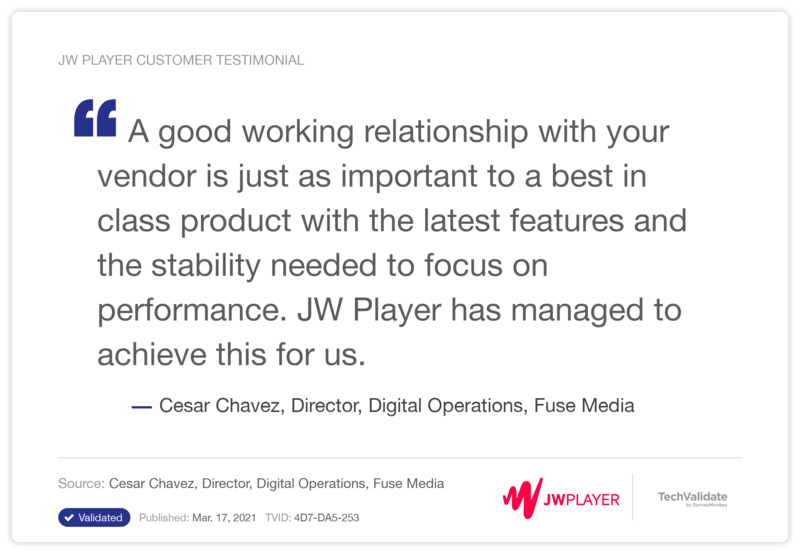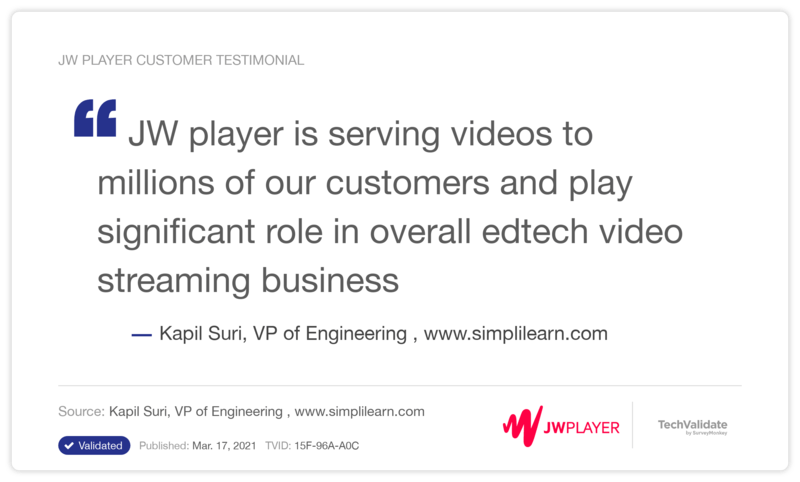 About TechValidate
Founded in 2007, TechValidate is a pioneer and leader in the marketing content automation field. TechValidate's on-demand offering is the first and only automated platform that collects and transforms customer experience data into credible content (case studies, ROI analyses, customer testimonials, customer reviews) for use across all key marketing and sales communication channels. The company serves customers from fast-growing startups to Fortune 500 companies and in industries, ranging from technology, financial services, life sciences, healthcare, and telecommunications. Learn more at www.techvalidate.com.
Contact JW Player
More than 12,000 brands, web publishers and broadcasters use JW Player technology to stream, play, engage and monetize video on their sites, powering over 10 billion monthly plays.
Contact us to help develop your online video strategy today.